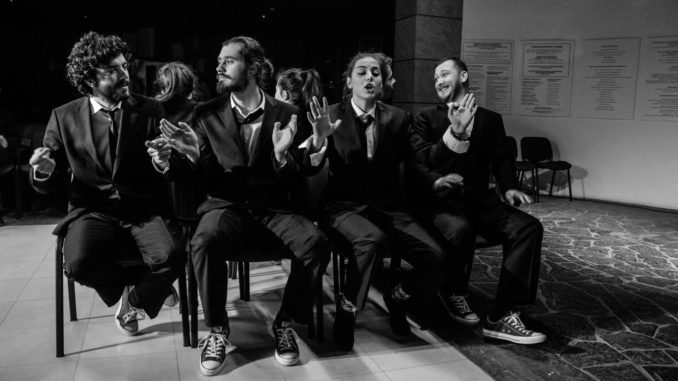 EN↓  01.11.2016 Театар на Навигатор Цветко/ Театарска претстава: "Солун, град на духови" 
Текст на Русомир Богдановски, инспириран од истоимената книга на Марк Мазовер, музика на Златко Ориѓански, во режија на Слободан Унковски.
Актери: Симона Димковска, Ивана Павлаковиќ, Наталија Теодосиева, Стефан Вујисиќ, Мартин Манев, Горан Ников и Владимир Петровиќ
Претставата е продукција на Театар на Навигаторот Цветко, Скопје, со поддршка на Министерство за култура на Р.Македонија и на Музејот на холокаустот на евреите од Македонија
Картите се 200 ден. и се во продажба онлајн на
http://www.kupikartizase.com/Events/solun_grad_na_duhovi_31_05_2016
---
EN» 01.11.2016 Theatre performance: "Salonica, City of ghosts"
Dramaturgy Rusomir Bogdanovski, inspired by the book "Salonica, City of Ghosts" by Mark Mazower, music by Zlatko Origjanski, directed by Slobodan Unkovski.
Actors: Simona Dimkovska, Ivana Pavlakovic, Natalija Teodosieva, Stefan Vujisic, Martin Manev, Goran Nikov and Vladimir Petrovic.
Performance is produced by Theatre of Navigator Cvetko, with support of Ministry of Culture of R. Macedonia and Holocaust Memorial Center for the Jews of Macedonia
The tickets are 200mkd and you could buy online:
http://kupikartizase.com/Events/solu_grad_na_duhovi_noemvri_2016