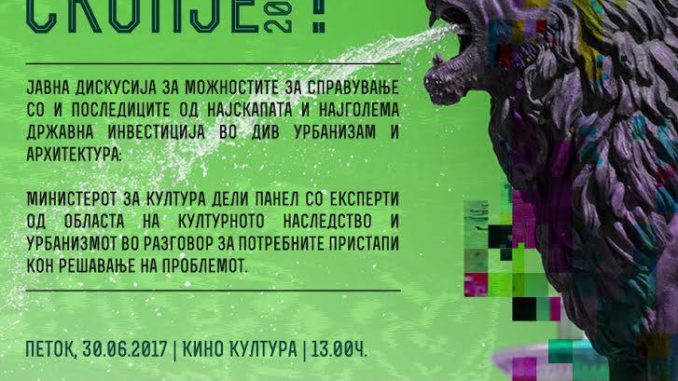 EN↓ 30.06.2017//13:00
Јавна дискусија за можностите за справување со последиците од најскапата и најголема државна инвестиција во псевдо-културата. Експерти од областа на културното наследство и архитектурата разговараат со министерот за култура за можните пристапи кон решавање на проблемот.
Учесници:
Роберт Алаѓозовски – Министер за култура
Донка Барџиева Трајковска – Центар за културно наследство
Сања Раѓеновиќ – Архитект
---
EN»
Public discussion of the possibilities of coping with the consequences from the most expensive and largest state investment in pseudo- culture. Experts from the field of cultural heritage and architecture discuss with the Minister of culture about possible approaches to solve the problems.
Participants:
Robert Alagjozovski- Minister of culture of Macedonia
Donka Bardzieva Trajkovska- Center for cultural heritage
Sanja Ragjenovik0- Arhitect