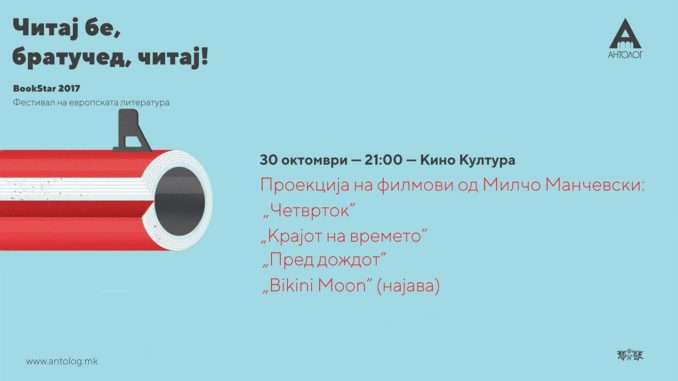 EN↓ 30.10.2017 @ 21:00
Проекција на филмови од Milcho A. Manchevski.
30 октомври – 21 часот – Кино Култура
МАКЕДОНСКИОТ УМЕТНИЧКИ МАГ – МИЛЧО МАНЧЕВСКИ – Писател, режисер, сценарист, фотограф, професор, музичар.
Со "Пред дождот" го освои светот и ја исцрта Македонија на светската филмска сцена. "Пукај бе, братучед, пукај!" е инспирација и по повеќе од 20 години.
За генерациите родени 80-90-00 ова е МНОГУ РЕТКА можност да го почувствуваат во Кино.
---
EN» Projection of films by Milcho A. Manchevski.
30 October- 21:00- Kino Kultura
MACEDONIAN INFORMATION MAG- MILCHO MANCHEVSKI- Writer, director, screenwriter, photographer, professor, musician
With "Before the rain" he conquered the world and drew Macedonia into the worldwide film scene. "Shoot cousin shoot" is inspiration for more than 20 years.
For the generation born 80-90-00 this is VERY RARE opportunity to feel in Kino.